A History of Fields Buick, Inc.
General Motors Dealer Code 04-149
5323 Baltimore Avenue
Hyattsville, MD 20781
An extension of Sherman's History Timeline


Maryland Historical Trust, 1987.



If you have any information on Fields Buick, or a picture of when the dealership was in service, please contact me via the e-mail address on the home page.
Fields Buick sold new Buicks (and later Opels) in Hyattsville for over 50 years at 5323 Baltimore Avenue. Fields Buick originally incorporated with with the State of Maryland as Hyattsville Auto & Supply, Inc. in 1931. The first address for Hyattsville Auto & Supply was on 132 Maryland Ave, in Hyattsville.

Washington, D.C. Evening Star, 1941. Library of Congress (L.O.C).

Hyattsville Then and Now

According to the Maryland Historical Trust, the building pictured above, first appeared on a 1922 map. It was marked as a garage with fuel storage tanks beneath an earthen floor with pumps facing toward the current Baltimore Ave. In the late 1920's, the building underwent an expansion "to facilitate and service 40 automobiles" and was known as the White House Garage. In 1930, the H.C. Fleming Motor Company was selling Dodge's out of the building. Note the bowling alley to the left had not been built at the time. In December of 1941, the first advertisement at this address is seen for Hyattsville Auto & Supply. At this juncture, they received a WAlnut exchange telephone number. The Maryland Historical Trust noted much later the building "exterior featured an overhead garage door with 40 individual lites, and a large metal and neon sign."



Washington, D.C. Evening Star, 1942. L.O.C.

Hyattsville Bowling Center Hyattsville Patch
In 1940, Oscar K. Hiser constructed The Hyattsville Bowling Center at 5503 Baltimore Ave, directly adjacent to Hyattsville Auto & Supply. It had 24 lanes of bowling, and a large concession stand near the entrance. A recollection by Mr. Walter Darnall posted in 2011 states there were bowling lanes on the first and second floor, and a pool hall room in the basement. Mr. Hiser pled guilty in 1951 to illegal gaming (lottery) charges, and in 1953 the last help wanted ad is seen for the bowling alley.



Left, August 1940, middle, October 1951, right, 1953 Washington, D.C. Evening Star, L.O.C.

The Historical Trust states Mr. Hiser went bankrupt, and Mr. Field moved into the space, converting the building at 5323 Baltimore Ave to office space in the front, and service bays in the rear, and the former alley space as the new car showroom. The original bowling alley building is noted with the following unique features: A 1940 date stone is prominently displayed in the center of the upper front of the building, a large semi-circular window with smaller, circular windows flanking it is situated on the front facade, and a concrete automobile ramp leads to the second story on the north side of the property.

In 1953 advertisements start showing a co-named Hyattsville Auto & Supply Company/Hyattsville Buick. A used car lot is mentioned at 5511 Baltimore Ave "next to our new-car showrooms", selling only used cars. There are no articles of incorporation or changes in 1953. There was an amendment in 1947 that could be a name change, but the source document is not available online. An assumption is that "Hyattsville Buick" was simply a doing business as (DBA) name of the Hyattsville Auto & Supply.


Left, October 1953, Right, March 1957, Washington, D.C. Evening Star, L.O.C.

On Jun 21 1963, the Corporation filed an amendment for a name change from "The Hyattsville Auto and Supply Company" to "Fields Buick Inc." Mr. Fields' obituary, shown further below, stated he retired in 1988, having owned the dealership for 25 years. There are other references to Mr. Fields before 1963, so he was likely a partner or had some other business arrangement before then.

Below, a sales invoice from 1965 showing the names.


Left Coast Classics
Citing that Mr. Fields retired in 1988, it is no surprise that on February 29, 1988, Fields Buick, Inc. merged into Lustine Buick, a newly incorporated company which was only 18 days old. A day later, Lustine Buick, Inc. was merged into Lustine Oldsmobile, Inc., creating Lustine Oldsmobile - Buick, Inc. The Buick dealership remained at 5323 Baltimore drive, but was renamed Lustine Oldsmobile Buick. Mr. Fields died in 1998, at the age of 76, after suffering a stroke.


The Washington Post, Dec 20, 1998.
Around 2000, Buick and Oldsmobile were combined with Chevrolet at the main Lustine property, and the Lustine body shop moved into the old Buick building at 5323/5503 Baltimore Avenue. The last record of any money being invested in 5323 Baltimore Avenue was an air permit allowing Lustine to build three new paint booths within the property, in May or June of 2000.
Lustine has since "abandoned" Hyattsville, along with General Motors, and concentrated their efforts in Woodbridge, VA. Sometime after 2000 Lustine sold off their franchises. Then the Lustine family sold off their Hyattsville real estate to EYA who redeveloped the area.
As part of EYA's redevelopment plan of the Hyattsville area to an "Arts District", the Hyattsville City Council agreed on August 1, 2005 "not to support the preservation of the Former Fields Buick Collision Center [sic] on the east side of Route 1" as written in The Hyattsville Reporter [broken link]. They are however, keeping the Lustine Chevrolet showroom "in order to preserve a piece of the area's heritage, character and unique identity." [broken link].
While the Lustine showroom was preserved, the Fields Buick building was razed into rubble in August of 2006. See link to pictures below.
Fields Buick 1987 vs. 2006
Click on any bordered photo for a larger version

West elevation: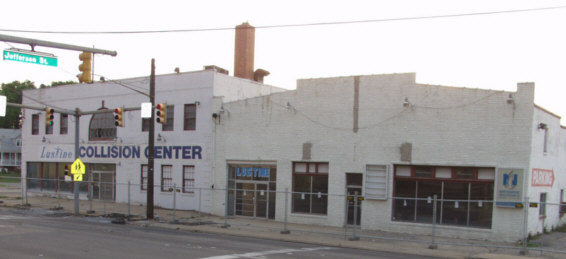 Click here for destruction pictures:

Here are the full aerial photographs taken sometime between 2002 and 2006 of the former Fields Buick showroom and Lustine Chevrolet body shop:

Click on any photo for a larger version:



1988 USGS Photo:

References (many broken links, left for research purposes)
http://www.mdihp.net/cfm/dsp_redirect.cfm?id=24625&county=PG
https://mht.maryland.gov/secure/Medusa/PDF/PrinceGeorges/PG;68-41-34.pdf Confirmed Jan 2021.
https://mht.maryland.gov/secure/Medusa/PDF/PrinceGeorges/PG;68-41-29.pdf Confirmed Jan 2021.
http://www.mdihp.net/cfm/dsp_redirect.cfm?id=24630&county=PG
http://www.preservehyattsville.org/hhdexpand.PDF (Page 18)
http://www.landsknechts.org/lands/lands_1996_04t.html (under "directions").
http://www.mde.state.md.us/assets/document/General/mdemay00.pdf (under "For the Record", Prince George's)
https://mde.state.md.us/programs/ResearchCenter/ReportsandPublications/Documents/www.mde.state.md.us/assets/document/general/mdemay00.pdf Confirmed Jan 2021.

Photo Credits:
Black and Whites: Maryland Historic Trust
Color: C. Stockton
Overhead: Microsoft Live Local
Destruction Pictures: G. Tindale
Second picture from top: Retouched Lustine Chevrolet