Some of the more custom Full-Size Buicks

Above: 1964 Buick Electra Convertible. GM brought it to SEMA. Powered by a ZZ572/620 engine. "The modified Electra 225 features a Hydra-matic Turbo 400 automatic transmission and a custom radiator that's outfitted with twin electric fans. The car rolls on chrome 20-inch Boss Motorsports "312" five-spoke wheels and Michelin Pilot Sport tires." From http://www.seriouswheels.com/cars/top-1964-Buick-Electra-225-Convertible-620-hp.htm

Above: 1964 Wildcat 2 door hardtop with bucket seats, new paint, air bags, Crager Wheels with spinners and 245-60-15 Radial G/T Tires. Buy it Now was $14,500. Reserve was not met at $8,600.



Above: "1964 BUICK ELECTRA 225, 22 inch Young Joc rims, new crate Chevy motor & transmission, only 472 miles, wet black with peanut butter interior and top, 4 12 inch subs, power sunroof, 3 TV's and DVD, Flowmaster mufflers, Lambo doors, $17000"



Above: "1964 BUICK WILDCAT, red, hardtop, rebuilt 401, 350 transmission, new power brake/exhaust, 4 barrel, rebuilt front end, power steering, stereo w/amp, lowered, 20 wheels, California car, excellent driver, $11500 or best offer"



Above: "1964 BUICK LESABRE, 2 dr, V8, ac, power steering, power brakes, power windows, Premium sound, custom wheels, immaculate, brand new custom paint, new original style upholstery, $9,900 or best offer"



Above: 1964 Electra from California. Pops up on eBay from time to time.



Above: 1963 LeSabre in Australia with wire wheels.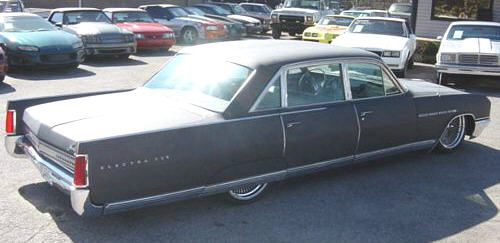 Above: 1964 Buick Electra with 20 inch wire wheels and custom air-ride suspension. Source: Maple Motors.



Above: 1964 LeSabre with monitors
Above: From cardomain.com "I have had this car for ten years. I have also replaced the 300 v8 engine with a Wildcat 340 engine that has a four barrel carb on it. When I first "restored" the car I decided to put dayton style rims on it. Well, after my wheel came off on the highway (!!!!) I have decided to switch to a more reliable NON KNOCKOFF style rim. Anyways, i installed 3 tv's 17 speakers, three amps and most recently I added a stainless steel banjo steering wheel from Grant Products."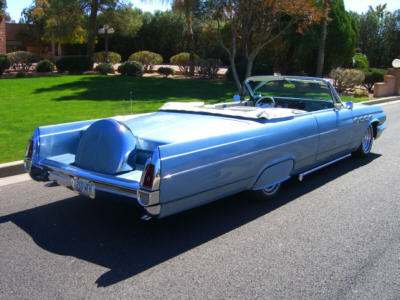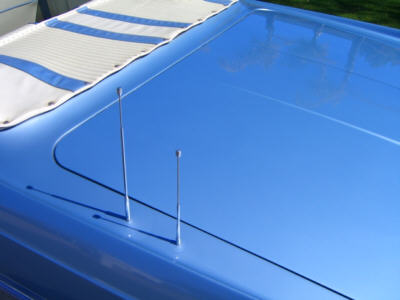 Above: "A customized 1963 Buick LeSabre convertible completed in 1993 that is known as 'Longrider.' Stretched 18" at the rear to enclose the continental kit within her extended rear fenders. Enhanced in the lead sled style, with nosed and peaked hood, frenched headlights, decked trunk, hidden gas filler and shaved door handles with solenoid releases. Finished in GM Medium Blue Metallic with lighter Silver Blue ghost flames. The interior is finished in Blue and Pearl White naugahyde." (Reserve not yet met at $16,000). Source: eBay.



Above: 1963 Buick LeSabre in Hot Springs, AR. PPG Clearcoat, shaved door handles. Gas filler relocated to trunk in wheel well. Eagle 15 inch Series 28 wheels.
Above: FIBERGLASS bodied prototype. "A 1964 BUICK WILDCAT 2DR HT PROTOTYPE LUXURY LIGHTWEIGHT-This car never went into production. It was designed by Billy Mitchell and Harley Earl, but when GM decided not to build it, they sent it to be destroyed. It wasn't. The car has power windows, power seat, power steering, power brakes, power radio antenna, cruise control, tilt wheel, AM/FM Radio, factory a/c, bucket seats with tach mounted into the console, auto and a 401 Nail Head V-8. It is painted a non factory color and has only 3,893 actual miles! It is beautiful and original. And now for the good part, with the exception of the 2 doors and the roof, the entire car is fiberglass!!! It is 800 pounds lighter than the standard Wildcat. This car is entirely documented. It runs and drives unbelievably. It is a full size factory prototype lightweight muscle car. "
Update: This vehicle has been donated to the LeMay museum. Read more here: http://blog.hemmings.com/index.php/2013/02/14/one-off-fiberglass-buick-wildcat-donated-to-lemay-museum/.


Black or White?


Same car, but the seller decided to change its full-on color to black when it didn't sell.

A Buick Electra on a California for-sale site asking $3500. "The original owner and builder was the owner of the local Buick distributorship. The original owner used it to deliver parts and equipment in Susanville. Some of the old timers still remember it cruising the streets…"

Above: Purported 1967 Full Size turned into a pickup truck.